Products
PEAR's aviation fueling cabinets are designed and built with many years' experience and fabricated in our own shop. Every unit is well planned and engineered with the operator in mind. All design aspects of the cabinet make for easy and safe operation. Every unit is engineered to provide years of reliable service and designed to meet all applicable codes such as ATA103, EI1540, B836-14 and the NFPA407.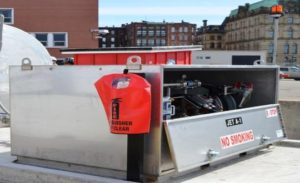 PEAR Aviation Fuel Dispensing Cabinet Features
Every PEAR cabinet is designed and built to your requirement. Typical available features are as follows but not limited too.
Designs meet all requirements for Jet and Avgas dispensing
Removable cover available in aluminum, stainless or powder coated carbon steel with required access doors
Split folding main door for easy access and to keep the weather out
All stainless steel piping and aluminum/stainless vent & PRV piping
Pump selection and sizing to meet specific flow rates and system requirement
Filtration to meet current industry specifications c/w accessories for proper operation and maintenance
Selection of meters for your specific application for retail sales or private non-sale dispensing
Electronic or mechanical registers & available with card-lock control terminals
Controls as required such as ball valves, check vales, solenoid valves, dead-man valves, additive injection systems
Hose reels manual or electric with roller guides
Contitech Aeropal Aviation hose in regular or low temp
Fueling nozzles over-wing, under-wing or both with dry break disconnects
Electrical controls in accordance to specification and local requirements
Off-load/dispensing/loading, dual flow rate, dual reel designs available